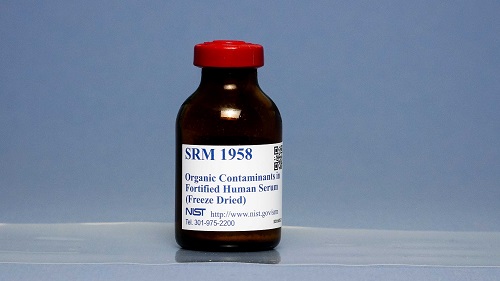 NIST- SRM 1958 Organic Contaminants in Fortified Human Serum(Freeze-Dried)
产品详情如下,更多产品价格和货期,请咨询客服,供实验室使用!
This Standard Reference Material (SRM) is intended for use in evaluating analytical methods for the determination of selected polychlorinated biphenyl (PCB) congeners, chlorinated pesticides, and polybrominated diphenyl ether (PBDE) congeners in human serum and similar matrices. Reference values are provided for selected polychlorinated dibenzo-p-dioxins (PCDDs), polychlorinated dibenzofurans (PCDFs), non-ortho PCB congeners,perfluorinated compounds (PFCs), and serum lipid. Information values are provided for selected toxaphene congeners and hydroxylated compounds. A unit of SRM 1958 consists of five vials, each containing freeze-dried fortified human serum. Before use, the serum in each bottle must be reconstituted with 10.7 mL of distilled or HPLC-grade water.
The development of SRM 1958 was a collaboration between the National Institute of Standards and Technology (NIST) and the Division of Laboratory Sciences, Organic Analytical Toxicology Branch, U.S. Centers for Disease Control and Prevention (CDC).
本标准参考物质(SRM)用于评估测定人体血清和类似基质中选定的多氯联苯(PCB)同系物、氯化农药和多溴二苯醚(PBDE)同系物的分析方法。提供了选定的多氯二苯并对二恶英(PCDDs)、多氯二并呋喃(PCDFs)、非邻苯并对氯苯同系物、全氟化合物(PFCs)和血脂的参考值。提供了选定毒杀芬同系物和羟基化化合物的信息值。SRM 1958的一个单元由五个小瓶组成,每个小瓶含有冷冻干燥的强化人类血清。使用前,必须用10.7毫升蒸馏水或高效液相色谱级水重新配制每瓶血清。
SRM 1958的开发是美国国家标准与技术研究所(NIST)和美国疾病控制与预防中心(CDC)有机分析毒理学处实验室科学部的合作。
NIST- SRM 1958 Organic Contaminants in Fortified Human Serum(Freeze-Dried)
产品规格 Unit of Issue: 5 vials x 10.7 mL
产品有效期 Product Expiration Date: 31 August 2025 Product Expiration Date: 31 August 2025
产品证书修订历史 Revision History: 11 October 2018 (Changes in values of PCB 180/193, PCB 196, and Phospholipids; editorial changes).
产品储存温度 NIST Storage Temperature: Refrigerate (4 o C) Please see certificate for user storage information regarding this material.
安全信息 Safety Information
产品类别 Table(s) of Related Materials 105.02
产品运输条件 Hazard Class: This material is not considered hazardous to ship.
产品危险品类别 Perishable Types: This material is perishable and ships on cold packs.